Call OC's Favorite Screen Service!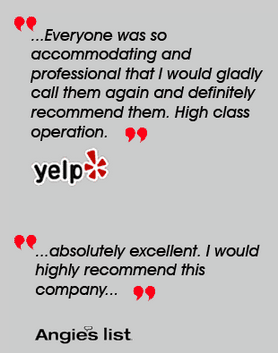 Take a Look at Our Products' Warranty Policy
Let's face it, a warranty isn't very useful if the service goes out of business after you've made your purchase. We're proud of our 25 year reputation of providing great service in Orange County.
You work hard for your money and you deserve quality work. We want you, and all of our customers, to continue to be happy with purchases from Mobile Screen Service. That's why we've guaranteed all of our products to fit right and be free of defective materials and workmanship.
But, of course, screens aren't bulletproof, and there are some limits to what we can promise. Some Mobile Screen Service products have specific warranties while others do not. Those items with a guarantee do assume that the products will be operated under "normal use." That's only reasonable.
Screening mesh is by nature somewhat fragile, as it must be thin enough to let air and light pass through. We guarantee that the mesh will not of its own accord pull away from the frame. We do not guarantee, however, that it can stand the test of destructive actions such as cutting by sharp objects, shredding by pets, or walking through a closed screen door. These are events wholly separate from issues of workmanship and quality of materials.
Please note that fire codes require windows and screens to be a means of passage in the event of fire or emergency. Screens provide reasonable protection against bugs getting in, but they cannot by law provide any security whatsoever with regard to children or adults falling out. Do not assume that screens are appropriate safeguards for your children's safety.
If your city has requirements regarding swimming pool safety, be aware that a latched screen door is not a substitute for a locked solid door or fencing and is not considered protection against access by children. Screen doors and windows are not guaranteed to keep children in or to keep burglars out. If you want protection against these possibilities, safety bars, fences or window bars can be obtained through a specialty security company.
For those living close to the ocean, salt air will have a corrosive effect on aluminum products. Protective oils and waxes, used regularly, increase their longevity.
Other than the exclusions above, the following items have these expressed warranties:
Window Screen: Guaranteed to fit at the time of installation; subsequent damage due to improper handling is not covered.
Hinged Screen Door: 2 Year warranty on general operation of the door.
Disappearing Screen Door: 2 Year warranty on general operation of the door. Due to the unique operation of this type of door, however, restrictions apply. For full warranty details please refer to this page: Disappearing Warranty
2 1/2" Extruded Sliding Door: 2 Year warranty on general operation of door. Includes frame damage in the event of a walk-through, but does not include damage to screen mesh.
1 3/4" Extruded Sliding Door: 1 Year warranty on general operation of door.
Roll Form Sliding Door: 30 day warranty on general operation of door.
Unifit Sliding Door: No warranty.
Rubber-Flapped Pet Door: 1 Year warranty through original manufacturer.
Plastic-Framed Pet Door: No warranty.
All repair parts on Screen Doors (including rollers): 30 day warranty.
At Mobile Screen Service we do our best to provide the highest quality products and services available.
This warranty information is provided on the back of every Mobile Screen Service invoice.